What is Compound Interest?
Compound interest is the practice of charging or paying interest on top of interest. let's look at an example with a small figure for ease of understanding:
Meet Jack, the lender
Jack borrows $100.00. The loan attracts interest at 10% per month. Jack has to pay a minimum of $20.00 per month on his loan (a similar approach to a credit card company).
At the end of month 1, Jack owes $110.00. This amount is the original $100.00 loan + $10.00 interest ($100.00 x 10%). He makes his minimum payment for $20.00, he now owes $90.00.
At the end of month 2, Jack owes $99.00. This is the amount from the previous month $90.00 + $9.00 interest ($9.00 x 10%). He makes his minimum payment for $20.00, he now owes $79.00.
In the example above, Jack's credit card is using compound interest to calculate the monthly amount owed. So, interest is applied on interest already charged! so, you don't just pay for the original debt, you pay for the interest on that debt as well.
It is easy to see that Compound Interest suits the money lender in this instance. How does Compound Interest affect those who save and invest their money? Lets look at another example:
Meet Gill, the saver...
Gill doesn't earn a great deal but has a little spare cash each month. Gill looks at her finances and realises that, although she can get by, if something goes wrong she doesn't have any spare money to cope with a big emergency (like a washing machine breaking down or visiting her elder relatives who live out of State). After reviewing the Daily Expense Savings Calculator, she decides she can save $20.00 per month. Gill shops around and finds a saving plan that provides interest at 10% a month (because the money lender likes easy examples to work with...), let's see hoe compound interest affect Gills Savings:
At the end of month 1, Gill has saved $22.00. This amount is the original $20.00 saving + $2.00 interest ($20.00 x 10%).
At the end of month 2, Gill has saved $46.20. This amount is the monthly $20.00 saving + $22.00 saved in the previous month + $4.20 interest ($42.00 x 10%).
At the end of month 3, Gill has saved $72.82. This amount is the original $20.00 saving + $46.20 saved in the previous month + $6.62 interest ($66.20 x 10%).
At the end of month 4, Gill has saved $102.10 This amount is the original $20.00 saving + $72.82 saved in the previous month + $19.28 interest ($92.82 x 10%).
As you can see from the above, compound interest is great for savers, look at Gill, she did so well she retired at 23... Okay, Gills example has an artificially high interest rate though it is feasible to achieve that per year once you have saved enough capital. Shop around, there are still some good investment plans though you should always take professional financial advice before you invest.
Save or borrow?
A question that most of us ask ourselves and when we do we often think of Mom and Dad advice, "don't borrow, always save. Just look at how Gill did, she retired at 23 you know...". Sound advice on most occasions but life is different to when Mom and Dad were kids, a house cost a couple of years wages, not 10 or 20 years worth of salary and the associated living expenses were far fewer (less TV, less technology, life was humbler and significantly easier on the household budget). That being said, Saving is still the best way to go if you can afford to wait and stick to your savings plan. If you have never saved before, take a look at our Daily Savings Plan Calculator, it shows you have small changes on a day to day basis can soon put more money in your pocket and open doors to better financial planning and control of your life. The trouble is that most of us can't afford to wait, we may have the spare cash each month but we need the asset now... maybe its a motorbike or car for work etc. those things can't usually wait as they are a solution to a problem you need to resolve each and every day (how to get to and from work in a cost efficient manner).
So, let's look subjectively, Can borrowing be better than saving? There are occasions when it is better to borrow than to save but you should always consider your options carefully. Normally in order to make borrowing worthwhile, the item or asset that you purchase must gain in value with age. In financial terms, this means it has a higher Future Value [ The price you sell the asset for ] than it's Current Value [ The price you pay for the asset for ]. Lets look at a couple of examples where borrowing can be beneficial:
Personal Finance Example: Good historical examples include land and property, millions of people make massive amounts buy buying their homes and selling them later right? Sure they do but you must be prepared for your investment to decrease in value as well as increase. The recent Housing market crash witnessed thousands of people lose their homes when the amount they owed became larger than the value of their asset... their home. an awful experience for far too many, we hope that Banking crisis that triggered the event never occurs again but, statistically, it most likely will.
Business Finance Example: Business finance is tricky game, most new business start up with very little capital [ a pot of cash to invest on people, equipment, technology, development etc. ], many with none other than a thought, determination and drive... the entrepreneurial business start up. In these circumstances it is essential that you really consider how you are going to manage your business finances. Fortunately, banks tend to be more thorough when lending to businesses than they are to individuals as businesses can be shut down and dissolved where as personal debt follows you forever, unless you become bankrupt... So, business lending has a better safety net but, only you really know if your business plan makes sense. Consider your investment carefully, look at those monthly repayments and ensure you have more than sufficient funds to cover the costs and allow for low productivity periods [ when there is no work or you/your staff are unable to work due to vacation, sickness or equipment maintenance periods ].
We hope these examples provide food for thought. Our aim is not to deter you from taking personal loans or finance to support a business venture, our aim is to make sure you are informed, by that we mean that you have all the financial information so you can make a good decision on what is best for your business, your family and your combined financial futures. In both examples borrowing could mean a great financial future with good return on investment, just be aware they can also be the opposite.
How does Compound Interest benefit you?
This is good or bad depending on whether you're paying or receiving money.
It can earn you money by depositing an amount into a savings plan or it can be used to enable you to buy something with a large value, such as a house, which you could not afford to buy outright.
With a savings plan you can deposit an amount, then either leave it to amass interest, or you can pay a regular fixed amount into a plan.
It is also used to charge interest on a loan or overdraft.
How is Compound Interest Calculated?
We walked through a couple of scenarios which provided an example of how compound interest is calculated, I'm sure that those who are paying attention are still dreaming of Gill and her buckets of cash right? For those of you who are more mathematically inclined or simply looking to impress your friends with a mathematical equation or you googled this my mistake and shortly about to get a Tattoo of the Compound Interest equation rather than E = mc2 [ don't worry, no one will know and its all relative right? ]. So, for the nerds amongst us:

If you would like to understand more about Compound Interest math and the associated mathematical formulas and equations, read this Wikipedia article.
How does the frequency of payments affect Compound Interest?
okay, now that the nerds have headed over to wikipedia to check out the wider equations... let's leave the math, come back to normality and look at how changing the frequency of you payments / investments affects compound interest calculations in simple terms we can all understand..
If you are a saver: More frequent interest payment helps your investments grow quickly. The graph below illustrates how and investment over 10 years yields a higher return. So, when looking to invest your savings you should look for the highest rate possible with the most frequent interest payment.
If you are lending money: Less frequent interest payments are better for you. Ideally you want to have a loan that calculates and applies interest annually, this will provide you the least amount of interest across the term of the loan. Avoid loans which charge interest daily such as pay day loans.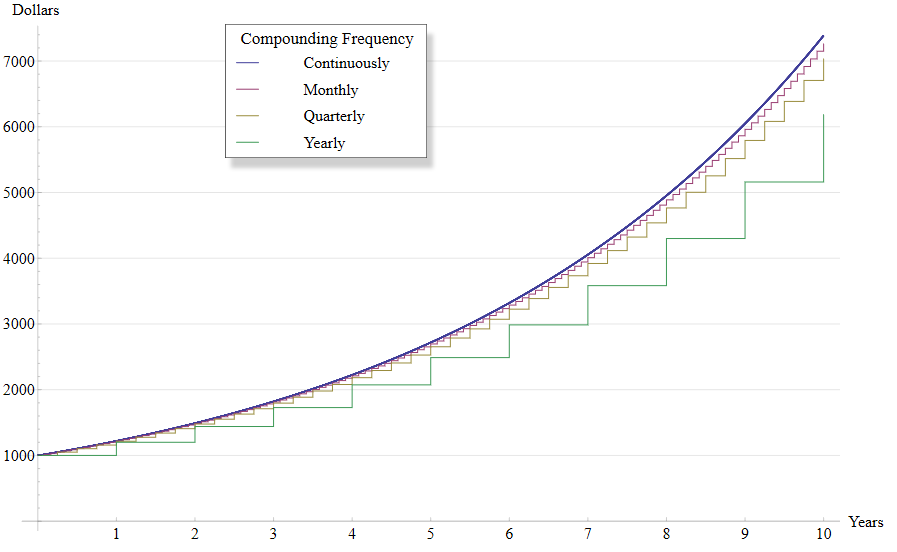 If you found this article useful, you will probably like our Daily Expense Savings Calculator which illustrates how a few small changes to your daily spending habits can allow you to save money and build up a nest egg.
If you would like us to add anything information to the Compound Interest Calculator or have a comment, please leave your message below or contact us.